West Coast Music Wedding Cost(s) for Live Music Bands and Entertainment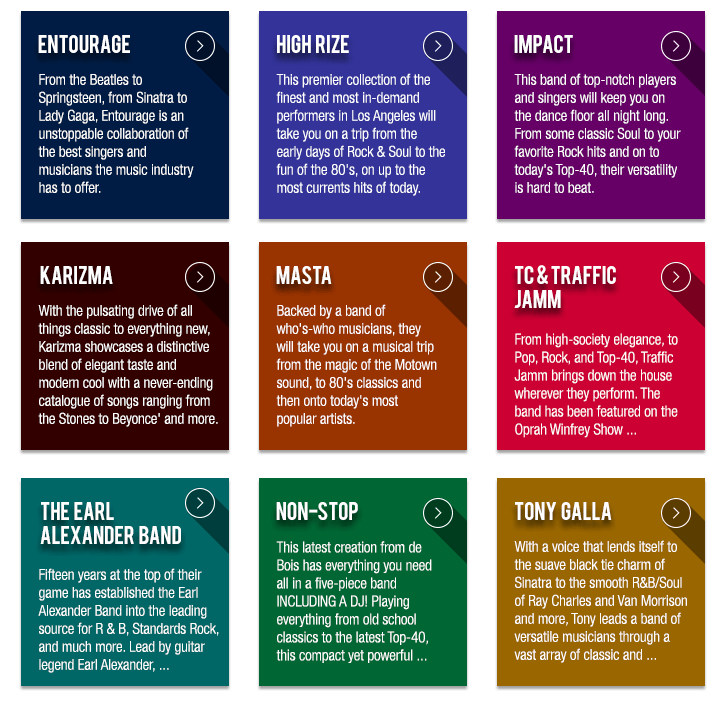 Venue- $6,000
Caterer- $16/person x 175 + 20%tip = $3,360
Planner or Day of Coordinator- $850 + $100 tip = $950
Music/Sound Equipment- $1500 +$100 tip = $1600
Officiant- $350
Marriage License- $90
Photographer- $1500 + $150 tip = $1650
Videographer- $1600 + $100 tip = $1700
Bar- $1200 + $100 tip = $1300
Dessert- $175 + $100 + 20%tip = $330
Florist- $1500 + $100 = $1600
Wedding bands– $5570
Dress/Suits- $2370
Hair & Makeup- $350 + $100 tip = $450
Save the Dates/Invitations- $460
Decorations- $400
Misc. (i.e any rentals you may need, cups, plates, napkins, silverware, etc.)- $2000
TOTAL: $30,180
NOW WHAT??
Once you have completed your budget, total everything up and see where you land. Maybe you have realized you need to change a few vendors you had in mind for someone that will work better in your budget. Maybe you have found extra money in your budget and you can splurge in other areas. Now jump on those vendors, because finding a vendor you love just to learn your date has been booked is no fun!
So how did we do on our example budget? Remember we are planning on around 175 guests. Let's tally.
So even on our example budget we went over by $180. Maybe I will have to go back and reconsider some of the miscellaneous things I want, maybe I can find a wedding dress that will be less than my budget, maybe I can convince my partner to find a wedding band on the lower end of that price range, maybe I will just choose to spend the extra $180. Whatever I need to do, at least now I have mapped everything out and know exactly where I will stand on my budget. Now I am ready to take on the next steps of wedding planning. Yee Haa!!
de Bois Entertainment has been providing the top wedding bands in the Los Angeles area for over 25 years. You can book our bands for your upcoming event anywhere in the world and we can even help you to pick out a specialty act, such as a comedian, a hula hooping troop, a stilt walker, a juggler, a fire spinner [poi], or face painter for your kids birthday party in Los Angeles, Beverly Hills, Orange County, Santa Barbara or even internationally, contact us today for more details.